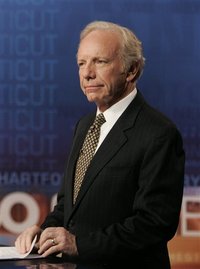 Just on Daily Kos today and saw this diary from Cenk Uygur drawing the rallying cry about how Senator Lieberman has forsaken his promises during the 2006 Election. In reading the post, and the original sourcing article from MSNBC, I was taken aback by what the Senator has done. As mentioned in the article,
Last year, when he was running for re-election in Connecticut, Lieberman was a vocal critic of the administration's handling of Katrina. He was especially dismayed by its failure to turn over key records that could have shed light on internal White House deliberations about the hurricane, including those involving President Bush.

Asserting that there were "too many important questions that cannot be answered," Lieberman and other committee Democrats complained in a statement last year that the panel "did not receive information or documents showing what actually was going on in the White House."

But now that he chairs the homeland panel—and is in a position to subpoena the records—Lieberman has decided not to pursue the material, according to Leslie Phillips, the senator's chief committee spokeswoman. "The senator now intends to focus his attention on the future security of the American people and other matters and does not expect to revisit the White House's role in Katrina," she told NEWSWEEK.
This is surprising since I have always felt that Senator Lieberman is the kind of person that will stand up for honor and integrity, especially when having to represent the weak and powerless. The insane cockup of the government's handling of Katrina (let alone Iraq) needs investigation. We spent far too much time on determining what President Clinton did or did not do with a particular intern, we spent far too little time on determining whether we should go into Iraq.
As an observant Jew, Senator Lieberman knows that every Jew has a responsibility to act in the manner that G-d wants the world to follow – to model the ideals that are right in this world. The Jewish faith has impacted the world in many ways, and as a leader in the Senate, he has a responsibility to think about the social impact of his decisions. Does he model the best in integrity….or does he model the social mores he is in? I hope he finds the compass once again and remembers that he has a social responsibility to the country, more than a friendship with a lame-duck President.