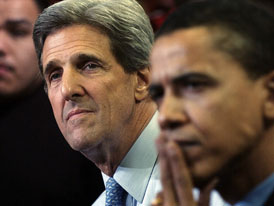 This was a shocker from a different point of view. When I was sitting down at CooBric, my CooBric cofounder Tony mentioned that Kerry was endorsing Obama for his run for the Presidency. Now that made me pause.
First thing I did is go to memeorandum and found a couple of articles. Kerry is going to announce at 11am in South Carolina – something hit me. That was where JK announced his campaign in early September 2003. I wonder if they will have the same ship in the background.
My question was "why?" Not that I think Obama is a bad choice, but I thought maybe he would stay above the fray until more was decided. His work with Clinton and his running mate Edwards – I thought maybe some form of loyalty? But then I read and remembered a couple of things:
Clinton piling on Kerry for his "get stuck in Iraq" faux pas

From the AP article on Yahoo! News: "While Kerry has been close to Clinton's husband, the former president, he was incensed in 2006 when she chided him after Kerry suggested that people who don't go to school "get stuck in Iraq." Aides said Kerry meant to jab at Bush and say "get us stuck in Iraq," and that he didn't appreciate Clinton piling onto the criticism he was already getting for the remark.

Kerry wanting to be a "kingmaker"?

JK has been fighting for Democrats for the past four years, building on his 3M member email list and continuing the fight to generate interest amoungst the faithful. He has raised incredible amounts of money for many Democratic causes – and candidates. Is this another way of him using his resources to help another? Certainly.

Kerry and Edwards did not agree on giving up the fight

I was reading the book "Was the 2004 Presidential Election Stolen" and learned that the night the details were coming out about the voting discrepancies in the battleground states and how Edwards wanted to fight on. It was Kerry (according to the book) that decided otherwise. After seeing both of them together in Florida and other places, it was a surprise that he did not make any endorsement.
I am pleased to see JK back in the game – and offering his help to any candidate. That is one of the things I truly like about JK – he is trying to help and do his best. His support for Obama is his way of contributing to the discourse – and to help get America (and the politically sensitive) engaged.
Tags: John Kerry, Barak Obama, Campaign 2008, Endorsement for Obama