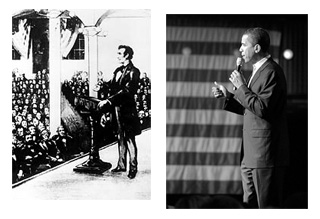 Yesterday, I got an email from the Cooper mailing list, informing me that he would be coming to Cooper Union to speak in the Cooper Union Dialogue Series (the same one that Mike Bloomberg spoke at). While I do not think that there will be a moderator, I am certain there will be parallels drawn about him speaking here and another Illinois senator speaking close to 150 years earlier.
What was especially interesting was watching a large clot of my students, who have never struck me as politically active, almost rioting in the quest of getting these tickets for the event. The line was especially long, students had been waiting outside to get one of these precious tickets, and the discussion as to why they wanted to be there were along the lines of what Winograd and Hais mentioned in their talk. This is about being part of a "good thing", a person of "vision", and a feeling of something special about coming to the Great Hall once again.
What supported the story was the fact that the students (in Engineering) were aware of the event, will more than likely make up the majority of the students coming, and were rapidly communicating with each other (via text and mobile Facebook) when tickets got scarce. Even after I got my ticket, I was privy to a discussion on the elevator about how important it was to have the ticket (each got only one) and that they were going to "guard it with their lives".
I do not know about you, but I certainly am amazed and impressed with the students here at Cooper. They did themselves proud. I am curious to see how the Senator will do tomorrow.
And, to listen/read about the similarities/history of an Illinois Senator coming to New York and speaking for history, go to the NYTimes podcast here.
Update: According to Elisabeth Benjamin at the Daily News, Mayor Bloomberg will be introducing Obama. Shall be interesting. If the Secret Security allows me, I will live-blog his speech as I attempted to do for Mayor Bloomberg back in October ([1], [2]).
Tags: Barack Obama at Cooper Union, Barack Obama at the Great Hall, Lincoln at Cooper Union