Originally cross-posted from The Social Engineer: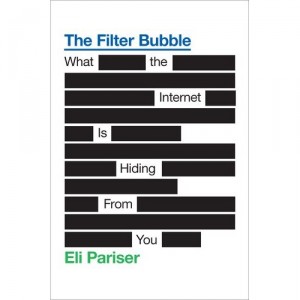 This past month, I have been reading Eli Parser's "The Filter Bubble" on my iPad Kindle app – and I must say, Eli has done a bang up job of discussing the impact the Filter Bubble can and will have on our political and intellectual discourse.
As I continue to work on the problem of "influence marketing", it brings back concepts of control theory to mind, and how tuning the inputs to a system can probabilistically ensure a bounds on response. And, as you begin to learn the "modes" of the "system", you are able to generate more desirable performance from the "system" overall.
Eli uses the phrase "persuasion styles" (from Dean Eckles at Stanford and Facebook) which discuss the modes on how a person can be influenced to perform an act/action based on how the request is made, not simply by the content. And with so much Social Action data around on the web (and purchasable in large batches from companies like GNIP and DataSift), the ability to sift through the voting records, demographic records and Social Action records will be a powerful mix.
Political Influencer Marketing
So what is "influencer marketing"? As I described in an earlier post, some circles consider the measure of influence corresponds to your perceived expertise in a particular topics or arena. It harkens back to the old E.F. Hutton commercial, "When E.F. Hutton talks, people listen." But in today's world of social media focused on driving action – and advertising dollars being spent to drive purchases or brand impressions, influence marketing becomes more of a word-of-mouth advocacy concept – who is able to drive actions from whom by creating reciprocal or responsive actions to the original action.
Continue reading →