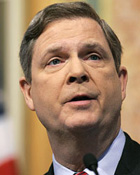 Across the wires:
Vilsack to end Democratic presidential bid – USAToday
Democrat Vilsack to drop out of 2008 race: sources – Reuters
Vilsack Drops Out – NYTimes
While I understand the reason (unable to raise the $20M initial anty), I am saddened the situation that forces him to making this decision. As the pioneer in starting his campaign first this season, Governor Vilsack did a wonderful job making a splash for reaching out and building excellent connections with supporters through his online campaign (especially impressed with his efforts on sites like blip.tv). I wish him well in his other pursuits – and congratulations on a good effort.
On the campaign site evals – TomVilsack08.com was one of the better sites out there in the Democratic field and deserves a discussion on its merits. In the coming days, if the site is not shut down, I will do a brief run down of the strengths and weaknesses of the engagement practices his team executed.